Basic Course
We utilize a 150 HP Piper Super Cub as well as a 230 HP Stinson 108, both on straight floats.  Our course includes up to 7 hours flight time, 2 to 3 hours of ground instruction, study materials, examiners fee and six month membership to the Seaplane Pilot's Association.
You need to be current in land planes when you begin your course.  Plan on 3 to 4 days to complete the basic seaplane course.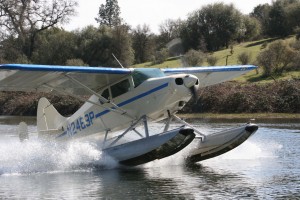 Advanced Course
This course includes everything in the Basic Course plus up to three additional hours of flight instruction in high elevation mountain lakes, rivers and additional ground instruction.
What to Bring
You will need to bring your pilot certificate, medical, logbook and a photo ID.  You will also need to be registered on IACRA.